01.11.2017 | Ausgabe 1/2018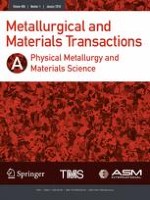 Development of Duplex Stainless Steels by Field-Assisted Hot Pressing: Influence of the Particle Size and Morphology of the Powders on the Final Mechanical Properties
Zeitschrift:
Autoren:

A. García-Junceda, M. Rincón, J. M. Torralba
Wichtige Hinweise
Manuscript submitted April 24, 2017.
Abstract
The feasibility of processing duplex stainless steels with promising properties using a powder metallurgical route, including the consolidation by field-assisted hot pressing, is assessed in this investigation. The influence of the particle size and morphology of the raw austenitic and ferritic powders on the final microstructure and properties is also evaluated for an austenitic content of 60 wt pct. In addition, the properties of a new microconstituent generated between the initial constituents are analyzed. The maximum sintered density (98.9 pct) and the best mechanical behavior, in terms of elastic modulus, nanohardness, yield strength, ultimate tensile strength, and ductility, are reached by the duplex stainless steel processed with austenitic and ferritic gas atomized stainless steel powders.