12.09.2019 | Ausgabe 6/2019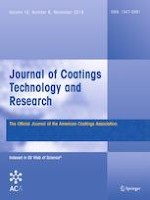 Development of functionalized SiO2–TiO2 reinforced cardanol and caprolactam modified diamine based polybenzoxazine nanocomposites for high performance applications
Zeitschrift:
Autoren:

T. Lakshmikandhan, Arumugam Hariharan, K. Sethuraman, Muthukaruppan Alagar
Wichtige Hinweise
Electronic supplementary material
Publisher's Note
Springer Nature remains neutral with regard to jurisdictional claims in published maps and institutional affiliations.
Abstract
In the present work, three types of polybenzoxazines were synthesized using caprolactam-based diamine (CPA-NH2) and formaldehyde with different phenols, namely 4-fluorophenol, cardanol, and phenol, under appropriate experimental conditions. The molecular structure of the benzoxazine monomers was confirmed by FTIR, 1H, and 13C NMR spectroscopic techniques. Polybenzoxazines were obtained through ring-opening polymerization of benzoxazine monomers, and their formation was confirmed by FTIR spectroscopy. The elemental composition and morphological behavior of polybenzoxazines were characterized by SEM-EDAX and AFM techniques. The naturally occurring cardanol- and caprolactam-based diamine (CPA-NH2)-based benzoxazine was selected for detailed studies. The synthesized SiO2–TiO2 nanohybrid reinforcement was functionalized with 3-aminopropyltrimethoxysilane (3-APS) and reinforced with cardanol-based benzoxazine (CPBz) monomer. The resulted nanocomposites were studied for their corrosion protection behavior against mild steel surface along with thermomechanical (TGA and DMA) and morphological (SEM, XRD, and TEM) properties. The results obtained from electrochemical impedance analysis indicate that the 5 wt% of F–SiO2–TiO2 of reinforced CPBz exhibits an effective corrosion-resistant behavior toward surface of steel specimen than that of other samples.