15.10.2019 | Ausgabe 4/2020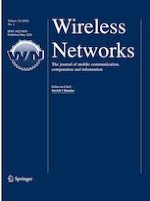 Development of high-speed FSO transmission link for the implementation of 5G and Internet of Things
Zeitschrift:
Autoren:

Vigneswaran Dhasarathan, Mehtab Singh, Jyoteesh Malhotra
Wichtige Hinweise
Publisher's Note
Springer Nature remains neutral with regard to jurisdictional claims in published maps and institutional affiliations.
Abstract
Internet of Things (IoT) enables the inter-connectivity of different "things" using which wide range of items and devices can communicate with each other and their external environment. 5G technology offers enhanced quality of service with high-data transmission rates, which necessitates the implementation of IoT in 5G architecture. Free space optics (FSO) is considered as a promising technology that can offer high-speed information transmission links and therefore is an optimal choice for wireless networks to satisfy the full potential of 5G technology offering 100 Gbit/s or more speed. By implementing 5G features in IoT, the coverage area and performance of IoT will be enhanced using high-speed FSO links. This work proposes the development of high-speed long-reach FSO link for the implementation of 5G and IoT. We investigate a long-haul, single-channel polarization division multiplexed 16-level quadrature amplitude modulation (PDM-16-QAM) based FSO link at 160 Gbit/s incorporating digital signal processing with coherent detection at the receiver terminal. The results show that the proposed system demonstrates a good bit error rate performance under different weather conditions. The proposed system can be deployed for high-speed, long-haul, spectral efficient, robust information transmission links in future 5G wireless networks under dynamic weather conditions.