2006 | OriginalPaper | Buchkapitel
Development of methods of numerical solution of singular integrodifferential equations for solid mechanics problems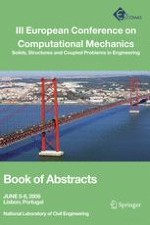 Erstes Kapitel lesen
Autor: Andrey V. Andreev
Verlag: Springer Netherlands
The paper is dedicated to the development of methods for solving one-dimensional singular and hypersingular integro-differential equations (SIDE and HSIDE) with generalized Cauchy kernels. Using the means of the theory of special functions, constructive methods of direct (without regularization) numerical solution of such equations are suggested.
Approaches to solution HSIDE with complex or real asymptotic are distinguished qualitatively. The former is based on expansion of the solution on the finite system of orthogonal polynomials (with explicit account for the end points asymptotic), analytical calculation of singular and hypersingular integrals, and replacement generalized kernel by confluent one with further analytical integration of this term (or direct numerical calculation of the latter). Then obtained functional equation by means of the collocation method is reduced to linear algebraic system, which used for evaluation of the expansion coefficients.
The direct approach is used for real asymptotic, which is based on Lagrangian approximation of the unknown function (with explicit account for the end points asymptotic), interpolation-type quadrature formulae, and the collocation method for reduction HSIDE to linear algebraic system relative to values of unknown function in the discrete points.
Explicit analytical account of asymptotic on numerical solution allows the estimation dominant terms of asymptotic expansion of the solution in vicinity of the end points of integration interval with high accuracy. It is important, particularly, in elasticity problems for bodies with crack, since a dominant term of asymptotic expansion of the solution in vicinity of crack tips control the stress intensity factor, which has prime importance in brittle fracture.
The numerical results and their comparison to analytical solution of some crack problems are presented in the paper. The developed methods allow to solving SIDE arising in different applied problems of physics and mechanics, particularly, in mixed elasticity problems, contact problems of solid mechanics, and two-dimensional problems of fracture mechanics.