01.06.2015 | OPTOPHYSICAL MEASUREMENTS | Ausgabe 3/2015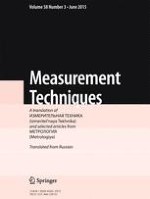 Development of Methods of Realization and Dissemination of the Units of Spectroradiometry with the Use of Synchrotron Radiation
Zeitschrift:
Autoren:

S. I. Anevskii, Yu. M. Zolotarevskii, V. N. Krutikov, O. A. Minaeva, R. V. Minaev, D. S. Senin
Wichtige Hinweise
Translated from Izmeritel'naya Tekhnika, No. 3, pp. 31–34, March, 2015.
A source of synchrotron radiation serving as a primary standard radiation source with broad range of energy tuning and number of accelerated electrons, the use of which provides new resources for the development of fundamental and applied spectroradiography, is considered. Results of a comparison of the spectral density of irradiance by means of this source serve as the basis for the development of a method of determining the effective temperature of sources of thermal radiation. A comparator that comprises a double monochromator with cooled CCD array by means of which signals in a broad dynamic range may be detected with a high degree of precision together with a determination of a dependence of the effective temperature on the source current is described.