16.07.2016 | Original Paper | Ausgabe 3/2017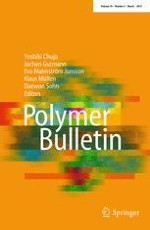 Development of natural and synthetic polymer-based semi-interpenetrating polymer network for controlled drug delivery: optimization and in vitro evaluation studies
Zeitschrift:
Autoren:

Sahrish Rehmani, Mahmood Ahmad, Muhammad Usman Minhas, Hina Anwar, Muhammad Imad-ud-din Zangi, Muhammad Sohail
Abstract
This research paper describes the development, optimization and in vitro characterization of chemically cross-linked pectin–polyvinyl alcohol-
co
-poly(2-Acrylamido-2-methylpropane sulfonic acid) semi-interpenetrating polymer network hydrogel [pectin–PVA-
co
-poly(AMPS) semi-IPN hydrogel] for controlled delivery of model drug tramadol HCl. Response surface methodology based on 3
2
factorial design was used for optimization and investigating the effect of independent factors: polymer-blend ratio (pectin:PVA =
X
1
) and monomer (AMPS =
X
2
) concentration on the dependent variables, swelling ratio (
q
18th
), percent drug release (
R
18th
, %), time required for 80 % drug release (
t
80 %
, h), drug encapsulation efficiency (DEE, %) and drug loaded contents (DLC, mg/g) in pectin-PVA-
co
-poly(AMPS) gels prepared by free radical polymerization. The optimized semi-IPN gel (FPP-10) showed controlled in vitro drug release (
R
18th
) of 56.34 % in 18 h,
t
80 %
of 30 h, and DEE of 23.40 %. These semi-IPN hydrogels were also characterized through SEM, FTIR, sol–gel analysis, swelling studies and drug release characteristics. Therefore, this newly synthesized polymeric network could be a potential polymeric system for controlled drug delivery of tramadol HCl for prolonged drug release.