2011 | OriginalPaper | Buchkapitel
4. Development of New Technological Approach to Mitigate Salinization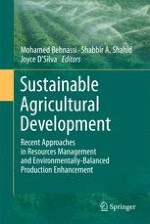 Erstes Kapitel lesen
Autoren: Maybelle Gaballah, Mostafa Rady, Abu-Bakr Mahmoud Gomaa, Magdi T. Abdelhamid
Verlag: Springer Netherlands
Abstract
Salinization of land has threatened civilization from ancient to modern times. To mitigate salinization, efforts have been made in the aspects of management and reclamation including using salt tolerant crops. Soybean is one of the major food and oil crops in most of the countries where salinity problems exist or are likely to be developed. Reducing the spread of salinization and increasing the salt tolerance of high yielding crops are key global issues. In this regards, an experimental design was laid out during two successive summer seasons of 2007 and 2008 at three different sites with soil salinity levels of 3.13, 6.25 and 9.38 dS m
−
1
at the experimental farm of the Faculty of Agriculture, Fayum University, Egypt. The experiment was conducted to determine how can inoculation with
Rhizobium japonicum
,
Azospirillum lipoferum
and ascorbic acid solely and in combination mitigate the negative effects of salinity on soybean growth and yield. The experiment was conducted using randomized complete block design on three different sites with soil salinity levels of 3.13, 6.25 and 9.38 dS m
−
1
, using two soybean cultivars (Giza
22
and Giza
111
), 7 treatments (biofertilizer and ascorbic acid solely and their combinations) and three replications. The results revealed soil salinity significantly reduced plant height, number of leaves per plant, leaves area per plant (cm
2
), shoot dry weight, total chlorophyll and total caroteniods. Soil salinity significantly reduced ascorbic acid, total indoles, α-amylase activity and polyphenoloxidase activity while it increased total soluble phenols, total soluble sugars and free proline. Soil salinity decreased significantly the percentage of N, P, K, Fe, Mn, Zn and Cu while it increased Na and Cl in the plant. Soil salinity also reduced all seed yield parameters in addition to seed yield quality (protein and oil contents). No significant difference was found between both cultivars used in most measured traits. Biofertilizer treatment associated with ascorbic acid at 100 and 200 ppm showed the best results compared with other treatments (control, biofertilizer alone, ascorbic acid at 100 ppm and ascorbic acid at 200 ppm).