2015 | OriginalPaper | Buchkapitel Open Access
4. Development of Nondestructive Assay of Fuel Debris of Fukushima Daiichi NPP (2): Numerical Validation for the Application of a Self-Indication Method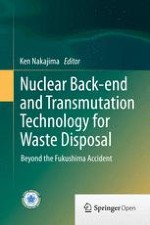 Autoren: Tadafumi Sano, Jun-ichi Hori, Yoshiyuki Takahashi, Hironobu Unesaki, Ken Nakajima
Verlag: Springer Japan
Jetzt einloggen
Abstract
To perform decommissioning of the Fukushima Daiichi NPP safely, it is very important to measure the components of the fuel debris. Therefore, a new nondestructive assay to identify and quantify the target nuclide in fuel debris using a pulsed-neutron source is under development in Kyoto University Research Reactor Institute.
We use the self-indication method for the nondestructive assay. This method is a neutron transmission method. The neutron transmission method is focused on resonance reactions (i.e., capture, fission) at the target nuclide. In the self-indication method, the transmitted neutrons from the sample are injected into an indicator. The indicator consists of a high-purity target nuclide. The transmitted neutrons are obtained by the time-of-flight (TOF) technique via resonance reactions in the indicator. The self-indication method has a high signal-to-noise (S/N) ratio compared to the conventional method.
In this study, numerical validation for the self-indication method to identify and quantify nuclides in a BWR-MOX pellet is described. The burn-up of the MOX pellet is 0 GWd/t, 10 GWd/t, 20 GWd/t, 30 GWd/t, 40 GWd/t, and 50 GWd/t. The 12-m measurement line in KUR-LINAC is simulated as a calculational geometry. Numerical calculations are carried out by continuous-energy Monte-Carlo code MVP2 with JENDL-4.0 as the nuclear data library. The burn-up calculations of the BWR-MOX pellet are performed by the deterministic neutronics code SARC 2006 with JENDL-4.0.
Numerical validation for application of the self-indication method is carried out. From the results, it is noted that the self-indication method has a good S/N ratio compared to the neutron transmission method for quantifying the amount of target nuclides in the fuel debris.