01.06.2015 | Original Paper | Ausgabe 3/2015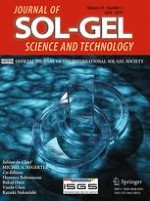 Development of sol–gel alumina coating on 9Cr–1Mo ferritic steel and their oxidation behavior at high temperature
Zeitschrift:
Autoren:

I. B. Singh, O. P. Modi, G. Ruhi
Abstract
Sol–gel derived alumina coating was developed on 9Cr–1Mo ferritic steel and their oxidation behaviour was studied at 750–900 °C in air atmosphere. The elemental composition of the coating was analyzed through energy dispersive X-ray analysis (EDX) while microstructure of the oxidized substrates was examined through scanning electron microscopy. EDX analysis confirmed the presence of alumina in the developed coating. Oxidation kinetics study indicated the occurrence of two orders of magnitude lower oxidation rate constant for the coated substrate as compared to uncoated substrate at 700 and 800 °C. However, an increase in oxidation rate was measured for the coated substrates at 850 °C and above temperature. Microstructural examination of the oxidized substrates indicated that comparatively thin, compact and less porous scale forms at the coated surfaces.
Graphical Abstract
In the present work, sol–gel derived alumina coating developed successfully on 9Cr–1Mo steel substrates. ES analysis through the coating confirmed the presence of alumina coating.
Oxidation kinetics study of the coated and uncoated substrates up to 900 °C in air atmosphere indicated a decrease of nearly two orders of magnitude lower oxidation rate for the coated substrate. Based on the elemental X-ray mapping and SEM of the oxidized sample, oxidation kinetics is discussed.
×