31.05.2016 | Ausgabe 4/2016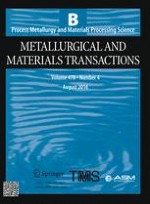 Devolatilization Characteristics and Kinetic Analysis of Lump Coal from China COREX3000 Under High Temperature
Zeitschrift:
Autoren:

Runsheng Xu, Jianliang Zhang, Guangwei Wang, Haibin Zuo, Zhengjian Liu, Kexin Jiao, Yanxiang Liu, Kejiang Li
Wichtige Hinweise
Manuscript submitted October 14, 2015.
Abstract
A devolatilization study of two lump coals used in China COREX3000 was carried out in a self-developed thermo-gravimetry at four temperature conditions [1173 K, 1273 K, 1373 K, and 1473 K (900 °C, 1000 °C, 1100 °C, and 1200 °C)] under N2. This study reveals that the working temperature has a strong impact on the devolatilization rate of the lump coal: the reaction rate increases with the increasing temperature. However, the temperature has little influence on the maximum mass loss. The conversion rate curve shows that the reaction rate of HY lump coal is higher than KG lump coal. The lump coals were analyzed by XRD, FTIR, and optical microscopy to explore the correlation between devolatilization rate and properties of lump coal. The results show that the higher reaction rate of HY lump coal attributes to its more active maceral components, less aromaticity and orientation degree of the crystallite, and more oxygenated functional groups. The random nucleation and nuclei growth model (RNGM), volume model (VM), and unreacted shrinking core model (URCM) were employed to describe the reaction behavior of lump coal. It was concluded from kinetics analysis that RNGM model was the best model for describing the devolatilization of lump coals. The apparent activation energies of isothermal devolatilization of HY lump coal and KG lump coal are 42.35 and 45.83 kJ/mol, respectively. This study has implications for the characteristics and mechanism modeling of devolatilization of lump coal in COREX gasifier.