11.03.2020 | Research Article-Chemistry | Ausgabe 6/2020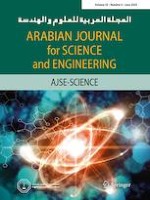 DFT and Kinetic Evaluation of Chloromethane Removal Using Cost-Effective Activated Carbon
Zeitschrift:
Autoren:

M. S. Abdelbassit, S. A. Popoola, T. A. Saleh, H. H. Abdallah, A. A. Al-Saadi, K. R. Alhooshani
Wichtige Hinweise
Electronic supplementary material
Abstract
Activated carbon (AC) was first produced from waste rubber tires via pyrolysis and then tested for its ability to adsorb chloromethanes from aqueous solutions. The adsorption activity of the AC was facilitated by the existence of carboxyl and hydroxyl functionalities on its surface. Under optimal conditions (AC dosage of 5 g/L and contact time of 60 min), 86.9% dichloromethane, 98.1% chloroform, and 99.8% carbon tetrachloride (CCl4) were removed from the contaminated water. The adsorption experimental data were fitted to the kinetics and the adsorption isotherms models. The density functional theory approach was adopted to assess the various possibilities of interaction between CCl4 and the functionalized AC. Theoretical modeling predicted the adsorption activity to be predominantly controlled by a hydrogen-bonding-assisted Cl···O=C type of interaction. In addition, the adsorption was found to be facilitated by various types of π···Cl interactions, with the development of an appreciable charge transfer during the process. This theoretical modeling of the interaction between AC and the organic contaminants is an improvement of our previous studies on the adsorption of contaminants using cost-effective AC.