12.07.2021 | Original Research Article | Ausgabe 10/2021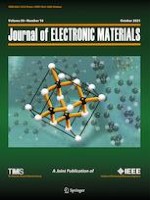 DFT Study of Lead-Free Mixed-Halide Materials Cs2X2Y2 (X, Y = F, Cl, Br, I) for Optoelectronic Applications
Zeitschrift:
Autoren:

Hussain Ahmed, Syed Zafar Ilyas, Abdul Jalil, Simeon Agathopoulos, A. Dahshan
Wichtige Hinweise
Supplementary Information
Publisher's Note
Springer Nature remains neutral with regard to jurisdictional claims in published maps and institutional affiliations.
Abstract
The intrinsic problems of toxicity and instability of lead solar cells have motivated extensive research intended to develop alternative materials for photovoltaic applications. First-principles calculations were performed in order to shed light on replacing the Pb2+ cation in lead- and mixed-halide materials with a formula of Cs2X2Y2 (X, Y = F, Cl, Br, I). The calculated band gaps range from 0 eV to 3.188 eV, and the absorption coefficients from 6 to 16 × 104 cm−1. The band gap of Cs2Cl2I2 is close to the Shockley-Queisser limit and its absorption coefficient is in the visible frequency range, which, in conjunction with its easy and economical synthesis process, qualify it as an alternative lead-free material for fabricating solar cells. It is suggested for further work that if the ratio of halogens is adjusted then the band gaps of Cs2F2Cl2, Cs2Cl2I2, Cs2Br2I2, and Cs2I2F2 may be tuned to the desired electronic band gap limit required to improve their optoelectronic performance.