2017 | OriginalPaper | Buchkapitel
22. Diagrammatic Reasoning in Mathematics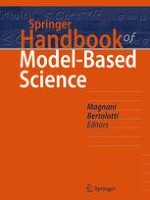 Erstes Kapitel lesen
Autor: Valeria Giardino
Verlag: Springer International Publishing
Abstract
The objective of the present chapter will be to review the most recent studies about diagrammatic reasoning in mathematics. Section
22.3
will focus on the very much discussed topic of the role and of the features of diagrams and diagrammatic reasoning in Euclidean geometry. Section
22.4
will be devoted to the proposal of considering diagrams as representations that are introduced in support of other symbolic practices and whose power resides in their ambiguity. In Sect.
22.5
, the attention will turn toward studies discussing diagrammatic reasoning in contemporary mathematics. In Sect.
22.6
, computational perspectives on how to implement diagrammatic reasoning in computer programs will be introduced, both for Euclidean geometry and theory of numbers. In Sect.
22.7
, it will be discussed how the study of diagrammatic reasoning can shed light onto the nature of mathematical thinking in general. Finally, in Sect.
22.8
, some brief conclusions about diagrammatic reasoning in mathematics will be drawn. The choice of reviewing the research about diagrammatic reasoning along these lines is of course at least in part arbitrary. The aim of such a regrouping is to provide the reader with a map that can be helpful for exploring the various and already copious literature that has been recently produced on the subject. The ambition is that such a map will be as extensive as possible.