2018 | OriginalPaper | Buchkapitel
Diagrams and Nonmonotonic Logic: What Is the Cognitive Relation?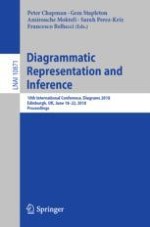 Autor: Keith Stenning
Abstract
[
9
]summarised a program of research into diagrammatic reasoning based on the semantics of diagrams. It distinguished
direct
diagrams from
indirect
ones by whether there was a direct semantic interpretation of some spatial relations in the diagram or whether all the interpreted spatial properties were mediated by a concatenation relation, as is the case in written natural language. So an Euler diagram is direct because its spatial property of containment in a labelled closed curve is directly interpreted as membership in a set designated by the label. In a typical abstract network diagram, such as a semantic graph, the nodes-and-link configurations take the place of the concatenation operator (as well as other matters), and play similar roles in determining the semantics of the diagram indirectly as the concatenation operator does in written natural and logical languages. The hallmark of indirectness is that the concatenation relation (whether one- or two-dimensional) has itself no semantic interpretation—only a syntactic one.