01.10.2019 | Ausgabe 10/2019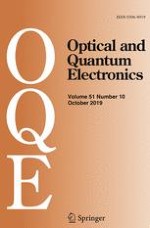 Dielectric and piezoelectric properties of 0.970(0.95(K0.485Na0.515)NbO3–0.05LiSbO3)–0.015CuO–0.015Al2O3/PVDF 0–3 composite reinforced with two kinds of ZnO powder
Zeitschrift:
Autoren:

Kun Yu, Shan Hu, Wendi Yu, Junqin Tan
Wichtige Hinweise
Electronic supplementary material
Publisher's Note
Springer Nature remains neutral with regard to jurisdictional claims in published maps and institutional affiliations.
Abstract
0.970(0.95(K0.485Na0.515)NbO3–0.05LiSbO3)–0.015CuO–0.015Al2O3 (KNNLS–CA) ceramic powder obtained through the conventional solid state reaction. The ZnO nanoparticles (denoted as ZnO1) and poly (vinylidene fluoride) (PVDF) were supplied from commercial companies. The self-synthesized ZnO powder (denoted as ZnO2) were prepared by hydrothermal method using Zn (CH3COO)2·2H2O and NaOH. Subsequently, the two kinds of composites were fabricated by hot-pressing process using KNNLS–CA ceramic powder, two kinds of ZnO powder and PVDF polymer. The effects of the ZnO on the crystalline structures, morphology, thermal stability, densities and electric properties of composites were studied systemically. The KNNLS–CA ceramic possesses a perovskite phase with orthorhombic symmetry and peaks from the second phase of K3Li2Nb5O15 (PDF#52-0157) are detected by X-ray diffraction. PVDF polymer mainly possesses α, β and γ phases. Two kinds of ZnO all possess hexagonal wurtzite structures without any impurity phase. It is worth noting that the ZnO particles have great impacts on lattice constants, strain and crystallinity. In addition, the ZnO particles can enhance the relative fraction of β phase in PVDF and improve the thermal stability of the composite. Interestingly, the dielectric and piezoelectric properties are also found to be improved with the increase of ZnO content. Especially, when 10 wt.% ZnO2 is doped, the dielectric permittivity reaches the value of 586.4 (100 Hz) at room temperature and the piezoelectric constant is 64 pC/N. After 30 days of aging test, it is obvious that all the composites present a good stability of piezoelectric property.