2014 | OriginalPaper | Buchkapitel
12. Dielectric Gels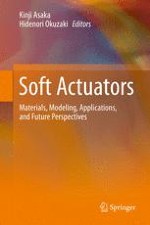 Erstes Kapitel lesen
Autor: Toshihiro Hirai
Verlag: Springer Japan
Abstract
Dielectric gels of various types are recently found electrically active, and can be used for actuators. Polymer gels swollen with large amount of dielectric solvent deformes by applying dc voltage. The deformation is based on the solvent flow (or ion drag) through the polymer network. They shows contractile, bending, and crawling deformation. Advantages are very swift deformation in air, small electric current, and large strain up to over 10 % depending on the degree of crosslinks among the polymer chain. Disadvantages are low durability because of the solvent bleed-out, and relatively high voltage.
Dielectric elastomers (sometime gel-like) can be good candidate when the polymer chains are flexible enough and sensitive enough to the electric field, although flexible polymer chains can not take the rolle of solvents. Similarity to the gel is that the electrically induced asymmetric charge distribution causes the bending deformation. Advantages of this system are low electric current, relatively swift deformation at high voltage, and good durability. Disadvantages of this system are requirement of high voltage, small strain, and basically very limited stress. For attaining large strain, very high voltages are necessary for the actuation such as over 10 kV/mm. We show the cases of polyurethane and poly(methyl methacrylate-b-n-butyl acrylate-b-methyl methacrylate) triblock copolymer.
Plasticized polymer system provides another possibility, and we think at this moment the best candidate from the viewpoint of easy processing and variable possibilities. Polymers with large content of plasticizer (we call this category as "polymer gel" in stead of plasticized polymer) shows peculiar deformation such as amoeba-like creep deformation. In some cases, we investigated the gels show high power, high toughness, very low current, and variable application possibilities. The characteristics comes out from the very large dielectric constant from the cooperative interaction between the polymer and plasticizer both of which have very low dielectric constant. By applying the characteristic properties, not only the electro-mechanical function but also the electro-optical functions and mechano-electric functions are found.
Through these investigations, we could conclude the dielectric gels have great possibilities as novel type of electro-active materials.