14.02.2017 | Original article | Ausgabe 1/2017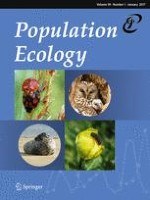 Different population responses of three sympatric rodent species to acorn masting—the role of tannin tolerance
Zeitschrift:
Autoren:

Rokuya Onodera, Yuka Akimoto, Takuya Shimada, Takashi Saitoh
Abstract
Rodent population dynamics are predicted to respond positively to the masting of acorns, but diverging results have been published. This study tested the hypothesis that population responses to acorn masting vary depending on differences in the tolerance to tannins of different rodent species. The effects of acorn abundance on the rodent population densities were analyzed using a dataset obtained in Hokkaido, Japan. Specifically, population fluctuations of three rodent species (
Apodemus speciosus, A. argenteus
, and
Myodes rufocanus
) and the abundance of
Quercus crispula
acorns have been monitored since 1992. Acorn production in previous years had a positive effect on the annual population growth rates of
A. speciosus
; however, this trend was not clear in the other two species. Tannin tolerance, assessed by body weight changes in an acorn feeding experiment, exhibited clear differences among the rodent species; namely, the body weight of
A. speciosus
increased, whereas that of the other two species decreased. The observed responses to acorn masting of populations of the three sympatric rodent species reflected tannin tolerance. It suggests that only populations of species with high tannin tolerance positively respond to acorn masting. Previous studies tend to overlook species-specific abilities of coping with tannins in acorns. Our results emphasize the necessity of evaluating the tannin tolerance of rodents and the tannin content of acorns to understand how rodent population dynamics and acorn production are related.