01.02.2011 | Ausgabe 1/2011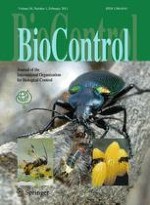 Differential resistance of oilseed rape cultivars (
Brassica napus

ssp.

oleifera

) to

Verticillium longisporum

infection is affected by rhizosphere colonisation with antagonistic bacteria,

Serratia plymuthica

and

Pseudomonas chlororaphis
Zeitschrift:
Autoren:

Ruba Abuamsha, Mazen Salman, Ralf-Udo Ehlers
Wichtige Hinweise
Handling Editor: Monica Höfte.
Abstract
The effect of a seed treatment with the antagonistic bacteria
Serratia plymuthica
(strain HRO-C48) and/or
Pseudomonas chlororaphis
(strain MA 342) on the infection of oilseed rape with
Verticillium longisporum
was assessed with ten different cultivars. Soil was inoculated with microsclerotia and mycelium of a
V. longisporum
culture. Seeds were treated with rifampicin-resistant antagonistic bacteria at a rate of log
10
6–7 cells per seed. Resistance against
V. longisporum
infection did not differ between cultivars and was generally low. A significant disease reduction recorded as area under disease progress curve (AUDPC) was obtained with both antagonistic rhizobacteria with no significant difference between the treatments. Percent of healthy plants was approximately 70% in all bacterial treatments. Significant differences were observed between the cultivars ranging from 46.5% (cultivar Titan) to 72.6% (Trabant). The combined use of both bacteria could not provide additional control effects. The bacterial density in the rhizosphere was not related to the control effect, but increased by log
10
2 on infection with
V. longisporum
. Growth promotion effects were also not related to the control effect. At present, neither the application of chemical fungicides nor breeding for resistance against
V. longisporum
in oilseed rape can provide a solution for this increasingly problematic plant pathogen. The present results now open perspectives to control
V. longisporum
in oilseed rape by making use of cultivars, which express resistance against this pathogen on interaction with the antagonistic rhizobacteria
S. plymuthica
or
P. chlororaphis
.