18.06.2016 | Ausgabe 4/2016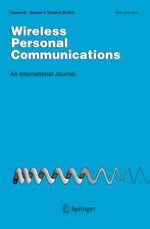 Differentiated Access Mechanism in Cognitive Radio Networks with Energy-Harvesting Nodes
Zeitschrift:
Autoren:

Yunmin Kim, Chul Wan Park, Tae-Jin Lee
Wichtige Hinweise
An early version of this work was presented at ICUIMC 2014. This work was supported by the National Research Foundation of Korea (NRF) grant funded by the Korean government (MSIP) (2014R1A5A1011478).
Abstract
In a cognitive radio network with energy-harvesting secondary nodes, the energy states of nodes may be different depending on the time-varying amount of harvesting and consuming energy. The contention strategy needs to take the effect into consideration to save energy and increase the lifetime of secondary nodes. In this paper, an efficient sensing mechanism and a contention algorithm for a cognitive radio network with energy-harvesting nodes is presented. In order to prevent imminent outage of low energy nodes, higher priorities are given to low energy nodes during contention, which gives more transmission opportunities to low energy nodes before they go into the sleep mode. We propose to use differentiated access probabilities and contention windows for different energy levels. By utilizing the access probabilities of secondary nodes, the number of the contending nodes and the energy consumption decrease. The differentiated contention windows ensure the transmission priority of low energy nodes. The proposed MAC protocol is shown to enhance throughput and energy efficiency. The throughput and energy efficiency of the proposed MAC are investigated via analysis by a Markov chain and simulations.