22.07.2016 | Original Paper | Ausgabe 21/2016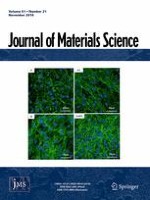 Diffusion of small molecules in a shape memory polymer
Zeitschrift:
Autoren:

Axel Marquardt, Safa Mogharebi, Klaus Neuking, Fathollah Varnik, Gunther Eggeler
Abstract
The present work studies the diffusion of small molecules (acetone, ethanol, and water) in a shape memory polymer (SMP) of type Estane ETE 75DT3 (SMP-E), which represents a thermoplastic polyurethane. The work aims at providing background information on the chemical reaction between SMPs and small molecules which can limit the service life of SMP actuators operating in harsh chemical environments. Weight gain studies after immersion of plate specimens in liquid acetone, ethanol, and water yield data which can be assessed on the basis of analytical and numerical solutions of Fick's second law. The diffusion coefficients which are obtained for 21, 30, and 40 °C in the present study scale as
D
acetone
>
D
ethanol
>
D
water
. The diffusion coefficients show Arrhenius types of temperature dependencies with apparent activation energies of 33 (acetone), 59 (ethanol), and 58 (water) kJ mol
−1
. The diffusion coefficients and the apparent activation energies obtained in the present work are in reasonable agreement with data which were reported for the reaction of the three small molecules with similar polymers in the literature. It is not straightforward to correlate differences in molecular mobility with individual physical properties. The Hansen solubility parameter (originally derived to explain solubility not mobility) qualitatively rationalizes the observed differences.