2019 | OriginalPaper | Buchkapitel
Digital Competence as a Measure of Employee Competitiveness in the Labor Market of the Cyber Economy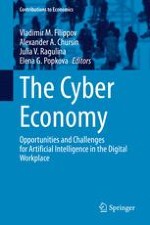 Erstes Kapitel lesen
Autoren: Polina Yu. Grosheva, Nataliya V. Bondarchuk
Abstract
The authors show that in the conditions of the cyber economy digital competence is one of the key factors of employee competitiveness in the labor market. The authors determine interconnections between technical modernization and reequipping of organizations and the need for the development of employee competencies to create cyber-physical systems of management.
The importance of the task of diagnostics in order for managers to assess employee competencies according to the modern requirements of the cyber economy is substantiated. This task is important for all categories of a company's personnel: managers, specialists, and employees who are either involved in key scientific and production activities or have roles related to their organization and maintenance.
A methodology of diagnostics for employee competence is offered. It is used to determine the need for development of digital competencies in the conditions of the cyber economy and is based on the implementation of a three-stage algorithm, which contains the model of evaluation of the level of competency. The authors distinguish competencies that are the most important for development of personnel in the conditions of the cyber economy to support a high level of organizational competitiveness.
The diagnostic tool makes it possible to measure how closely employee competencies conform with the conditions of the cyber economy, and take decisions to plan improvements if they are deemed necessary.