Erschienen in: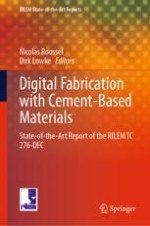 2022 | OriginalPaper | Buchkapitel
1. Digital Fabrication with Cement-Based Materials—The Rilem D.F.C. Technical Committee History, Strategy and Achievements
Abstract
In the last decade, the potential of 3D printing (and more generally of digital manufacturing) in the construction industry has been widely reported in the media. In 2017, CNN website posed the question "Will the world next megacity drip out of a 3D printer?".