2019 | OriginalPaper | Buchkapitel
Digitalization and Effective Government: What Is the Cause and What Is the Effect?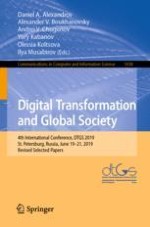 Erstes Kapitel lesen
Autoren: Elena Dobrolyubova, Elena Klochkova, Oleg Alexandrov
Abstract
Government digitalization is becoming a mainstream of governance reforms with high expectations in terms of improving public value delivered by governments, raising both efficiency and effectiveness of public administration. Based on cross-country data, this paper presents a quantitative analysis of correlation between government digitalization on the one hand (based on UN E-government and E-participation indices and OECD statistics) and quality of public administration (measured by the WB's governance indicators, Doing Business and WEF data) on the other. The results suggest that while there is statistically significant positive correlation between government digitalization and public administration performance, this relationship is stronger for government effectiveness, control of corruption, and doing business and weaker for e-participation, voice and accountability and efficiency of public spending. The findings suggest that there is direct cause and effect relationship between e-government development index and Doing Business measures. At the same time, surprisingly no direct cause and effect relationship was found between government digitalization and other governance indicators included in this study, such as government effectiveness and control of corruption. Thus, the benefits of businesses from government digitalization so far seem to be more evident than the gains of other beneficiaries. The paper concludes with analysis of some policy implications and recommendations on the directions of further research.