01.12.2009 | Mesostructured Materials | Ausgabe 24/2009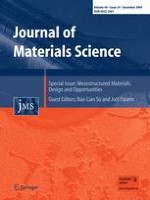 Direct synthesis of Cr-MCM-48-like large pore mesoporous silica
Zeitschrift:
Autoren:

Lingzhi Wang, Lei Wang, Jinlong Zhang
Abstract
Chromium-substituted MCM-48-like large pore mesoporous silica with average pore size up to 10 nm was directly synthesized by using P123 (EO
20
PO
70
EO
20
) as a template,
n
-butanol as an assistant, and chromic nitrate nonahydrate as a chromium source. The Cr species was doped by simply adjusting the pH of the synthesis system with ammonia from strong acid to nearly neutral after crystallization for 24 h. The Si/Cr ratios in the initial gel ranged from 10 to 80, and the actual weight percentage of Cr was analyzed by ICP. XRD pattern, high-resolution TEM, and N
2
adsorption–desorption isotherm were employed to investigate the pore structure properties of these materials. The results showed that all the samples had
Ia
3
d
cubic structure and the pore channels were highly ordered. UV–vis, wide-angle XRD, and ESR spectra revealed that at lower Cr content (Si/Cr > 30), only Cr (VI) and Cr(V) species existed in the mesoporous framework, and at higher Cr content, Cr (III) species appeared.