2019 | OriginalPaper | Buchkapitel
Directed Acyclic Graph Reconstruction Leveraging Prior Partial Ordering Information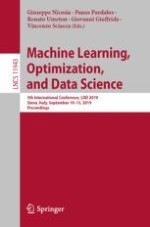 Erstes Kapitel lesen
Autoren: Pei-Li Wang, George Michailidis
Abstract
Reconstructing directed acyclic graphs (DAGs) from observed data constitutes an important machine learning task. It has important applications in systems biology and functional genomics. However, it is a challenging learning problem, due to the need to consider all possible orderings of the network nodes and score the resulting network structures based on the available data. The resulting computational complexity for enumerating all possible orderings is exponential in the size of the network. A large number of methods based on various modeling formalisms have been developed to address this problem, primarily focusing on developing fast algorithms to reduce computational time. On many instances, partial topological information may be available for subsets of the nodes; for example, in biology one has information about transcription factors that regulate (precede) other genes, or such information can be obtained from perturbation/silencing experiments for subsets of DAG nodes (genes).
We develop a framework for estimating DAGs from observational data under the assumption that the nodes are partitioned into sets and a
complete topological ordering
exists amongst them. The proposed approach combines (i) (penalized) regression to estimate edges between nodes across different sets, with (ii) the popular PC-algorithm that identifies the skeleton of the graph within each set. In the final step, we combine the results from the previous two steps to screen out redundant edges. We illustrate the performance of the proposed approach on topologies extracted from the DREAM3 competition. The numerical results showcase the usefulness of the additional partial topological ordering information for this challenging learning problem.