01.06.2011 | Ausgabe 2/2011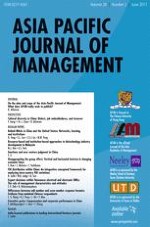 Disaggregating the group effect: Vertical and horizontal
keiretsu

in changing economic times
Zeitschrift:
Autoren:

Sandra Dow, Jean McGuire, Toru Yoshikawa
Abstract
This paper examines the evolution of
keiretsu
group affiliation among members of horizontal and vertical
keiretsu
in Japan over two time periods: 1992–1997, and 1997–2002. We found that ties were more stable in the later time period and therefore restricted our empirical analysis to the 1992–1997 period. We also found differences in the response of vertically and horizontally linked groups to economic downturn and capital market change—vertically linked groups weakened their ties while horizontally linked groups showed more stability.