2015 | OriginalPaper | Buchkapitel
4. Disappearance of Hypoxia in Dokai Bay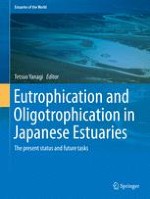 Erstes Kapitel lesen
Autor: Machiko Yamada
Verlag: Springer Netherlands
Abstract
Dokai Bay, in northern Kyushu, Japan, though small in size is an important port for the huge heavy and chemical industrial facilities that surround the bay. In the past, it was also a discharge area for heavily polluted industrial waters. Long-lasting hypoxia events were observed over large parts of the bay in the 1990s, but loads of total phosphorus (TP) and total nitrogen (TN) in wastewater have been controlled since 1980 and 1996, respectively, by government regulations. In consequence, TP and TN concentrations derived from nutrients such as phosphate-phosphorus and ammonium-nitrogen have substantially decreased. In addition, the concentration of acid-volatile sulfides in sediments has decreased drastically.
Because of decreased eutrophication, the severity and duration of the hypoxia events have decreased, and, although the red tide formation frequency has not changed, the diversity of red tide organisms has increased. Macroalgae have expanded their distribution to inner and deeper parts of the bay as the light penetration has increased. Sessile animals as well as fish, shrimp, and crabs are significantly more abundant on the bottom of the inner bay because of the increased dissolved oxygen content, especially in summer.
A bioremediation study of the filter-feeding mussel
Mytilus galloprovincialis
at a demonstration facility in the bay revealed that water purification by this mussel reduced the density of red tide organisms. In addition, the facility serves as a gathering place for fishes and as an environmental education site. Moreover, mussels collected from the facility are mixed with wood chips and composted for fertilizer. A seaweed bed bioremediation facility also enriches the ecosystems in the bay. With the disappearance of hypoxic areas, water quality has greatly improved, and it is hoped that restoration of their habitats will cause species that previously lived in the bay to return in abundance. The optimum eutrophic level for the bay still needs to be determined cooperatively by government agencies, stakeholders, and specialists, taking into account the richness of its aquatic resources.