17.05.2018 | Ausgabe 8/2018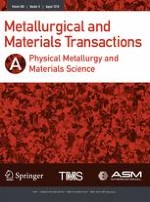 Discontinuous Precipitation Reactions in Co-10Al-4C (At. Pct)
Zeitschrift:
Autoren:

H. Kamali, S. Hossein Nedjad, M. J. Kaufman, R. D. Field, A. J. Clarke
Wichtige Hinweise
Manuscript submitted December 22, 2017.
Abstract
The evolution of microstructure and microhardness of a Co-10Al-4C (at. pct) alloy during isothermal aging at 800 and 900 °C is reported. Fine κ-Co3AlC0.5 intermetallic precipitates form in an FCC α-Co matrix after aging at both temperatures. Lamellar discontinuous precipitation also occurred at grain boundaries and the lamellar transformation product consumed the fine κ-Co3AlC0.5 precipitates in the matrix during aging. The microhardness of the alloy decreased dramatically upon formation of the lamellar product. Transmission electron microscopy revealed that the lamellar product consists of α-Co, κ-Co3AlC0.5, and B2-CoAl phases at 800 °C. The orientation relationship between α-Co and κ-Co3AlC0.5 phases, and between α-Co and B2-CoAl phases were identified as cube-on-cube and Kurdjumov–Sachs, respectively. The discontinuous product at 900 °C was composed of alternating α-Co and κ-Co3AlC0.5 lamellae, without the B2-CoAl phase that formed at 800 °C. Additional continuous coarsening of κ-Co3AlC0.5 phase was observed in the lamellar aggregate during prolonged aging at 900 °C. The main driving force for the discontinuous reaction appears to be the reduction in both interfacial energy and elastic strain energy where the latter is attributed to the relatively high lattice mismatch between the κ-Co3AlC0.5 precipitates and the α-Co matrix.