01.08.2013 | Ausgabe 4/2013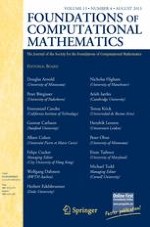 Discrete Moving Frames and Discrete Integrable Systems
Zeitschrift:
Autoren:

Elizabeth Mansfield, Gloria Marí Beffa, Jing Ping Wang
Wichtige Hinweise
Communicated by Evelyne Hubert.
Dedicated to Peter Olver in celebration of his 60th birthday.
Abstract
Group-based moving frames have a wide range of applications, from the classical equivalence problems in differential geometry to more modern applications such as computer vision. Here we describe what we call a
discrete group-based moving frame
, which is essentially a sequence of moving frames with overlapping domains. We demonstrate a small set of generators of the algebra of invariants, which we call the discrete Maurer–Cartan invariants, for which there are recursion formulas. We show that this offers significant computational advantages over a single moving frame for our study of discrete integrable systems. We demonstrate that the discrete analogues of some curvature flows lead naturally to Hamiltonian pairs, which generate integrable differential-difference systems. In particular, we show that in the centro-affine plane and the projective space, the Hamiltonian pairs obtained can be transformed into the known Hamiltonian pairs for the Toda and modified Volterra lattices, respectively, under Miura transformations. We also show that a specified invariant map of polygons in the centro-affine plane can be transformed to the integrable discretization of the Toda Lattice. Moreover, we describe in detail the case of discrete flows in the homogeneous 2-sphere and we obtain realizations of equations of Volterra type as evolutions of polygons on the sphere.