2017 | OriginalPaper | Buchkapitel
5. Discussions and Policy Implications for the Future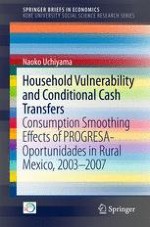 Erstes Kapitel lesen
Autor: Naoko Uchiyama
Verlag: Springer Singapore
Abstract
Thus far, this book has discussed the effect of the PROGRESA-Oportunidades cash transfer on reducing household vulnerability from different perspectives. All three empirical analyses from Chaps.
2
to
4
confirmed that the conditional cash transfer (CCT) program played a certain role in mitigating vulnerability; however, the effect was rather partial and could not fully achieve poverty reduction during the surveyed period 2003–2007. Although the transfer amount of PROGRESA-Oportunidades has increased since 2007 owing to the introduction of additional transfers to compensate for the price rise in food and energy, as discussed in Chap.
1
these measures turned out to be insufficient. Nevertheless, it is implausible to increase the amount of cash transfer for fear of moral hazard that could undermine self-efforts through an excessive reduction in household labor market participation, although Levy (
2006
) confirms that PROGRESA-Oportunidades did not negatively influence the work incentives. I will discuss alternative measures later in this chapter to conclude that the program has focused excessively on the labor supply side. Thus complementary policies must enhance the demand side, especially in creating decent employment opportunities for youth.