01.06.2011 | Research Article | Ausgabe 3/2011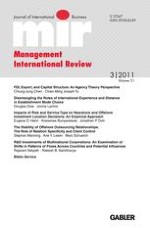 Disentangling the Roles of International Experience and Distance in Establishment Mode Choice
Zeitschrift:
Autoren:

Assoc. Prof. Douglas Dow, Prof. Jorma Larimo
Abstract
The empirical results concerning the role of international experience in establishment mode choice decisions have, until now, been ambiguous and mixed. In an attempt to resolve this dilemma, experiential knowledge in an international setting is decomposed into two distinct dimensions and a more comprehensive set of distance measures are incorporated into the models predicting the establishment modes of Nordic FDI.

The empirical results indicate that the two forms of experiential knowledge (cluster-specific experiential knowledge and general internationalization knowledge) are both significantly related to establishment mode choice, but in opposite directions.

The results for this data set also show that when used to predict establishment mode choice, the broader range of distance measures explain 2.6 times as much variance as the Hofstede-based Kogut and Singh index.

Moreover, the results demonstrate that not fully controlling for this broader range of distance measures significantly distorts the relationship between cluster-specific experiential knowledge and establishment mode. It appears there may be a similar type of distortion with respect to general internationalization knowledge but the effect size is much weaker and non-significant within this sample.