28.01.2016 | Symposium: Micromechanics of Advanced Materials III in Honor of J.C.M. Li | Ausgabe 12/2016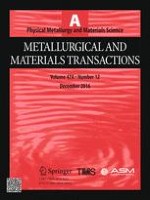 Dislocation Ledge Sources: Dispelling the Myth of Frank–Read Source Importance
Zeitschrift:
Autor:

L. E. Murr
Wichtige Hinweise
Manuscript submitted August 23, 2015.
Abstract
In the early 1960s, J.C.M. Li questioned the formation of dislocation pileups at grain boundaries, especially in high-stacking-fault free-energy fcc metals and alloys, and proposed grain boundary ledge sources for dislocations in contrast to Frank
–
Read sources. This article reviews these proposals and the evolution of compelling evidence for grain boundary or related interfacial ledge sources of dislocations in metals and alloys, including unambiguous observations using transmission electron microscopy. Such observations have allowed grain boundary ledge source emission profiles of dislocations to be quantified in 304 stainless steel (with a stacking-fault free energy of ~23 mJ/m
2
) and nickel (with a stacking-fault free energy of ~128 mJ/m
2
) as a function of engineering strain. The evidence supports the conclusion that FR dislocation sources are virtually absent in metal and alloy deformation with ledges at interfaces dominating as dislocation sources.