03.01.2018 | Ausgabe 3/2018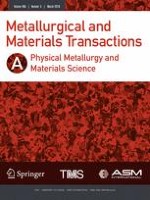 Dissimilar Impact Welding of 6111-T4, 5052-H32 Aluminum Alloys to 22MnB5, DP980 Steels and the Structure–Property Relationship of a Strongly Bonded Interface
Zeitschrift:
Autoren:

Bert Liu, Anupam Vivek, Michael Presley, Glenn S. Daehn
Wichtige Hinweise
Manuscript submitted April 18, 2017.
Abstract
The ability to weld high-strength aluminum to high-strength steel is highly desired for vehicle lightweighting but difficult to attain by conventional means. In this work, vaporizing foil actuator welding was used to successfully weld four Al/Fe combinations consisting of high-strength alloys: AA5052-H32, AA6111-T4, DP980, and 22MnB5. Flyer velocities up to 727 m/s were reached using 10 kJ input energy. In lap-shear testing, samples primarily failed in base aluminum near the aluminum's native strength, showing that the welds were stronger than a base metal and that the base metal was not significantly weakened by the welding process. A particularly strong weld area was studied by transmission electron microscopy to shed light on the microstructural features of strong impact welds. It was found to be characterized by a continuously bonded, fully crystalline interface, extremely fine (nanoscale) grains, mesoscopic as well as microscopic wavy features, and lack of large continuous intermetallic compounds.