01.05.2007 | Advances in Geopolymer Science & Technology | Ausgabe 9/2007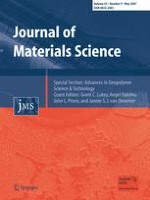 Dissolution processes, hydrolysis and condensation reactions during geopolymer synthesis: Part II. High Si/Al ratio systems
Zeitschrift:
Autoren:

K. Sagoe-Crentsil, L. Weng
Abstract
The mechanisms of speciation of aluminate and silicate phases during dissolution and condensation stages of alumino-silicate geopolymer reactions characterised by Si/Al ≥ 3, have been investigated and the results compared to predictions of the partial charge model. Solid-state nuclear magnetic resonance (NMR) traces indicate that free [Al(OH)
4
]
−
species, present in lower silicate formulations such as Si/Al
≤
1, do not occur in the present systems, suggesting that the condensation reaction between [Al(OH)
4
]
−
and silicate species is fairly quick and is consumed as soon as it is formed. This observation is also consistent with both calorimetric measurements and model predictions, as the condensation time increased exponentially with increased Si/Al ratio in the geopolymeric phase, indicating again that the high content of Al species in the gel phase greatly enhanced the condensation rate. The experimental observations suggest that the condensation process in these systems occurs in two stages: (a) quick condensation between aluminate and silicate species; followed by (b) a slow condensation stage solely involving silicate species.