01.09.2015 | Original Contribution | Ausgabe 9/2015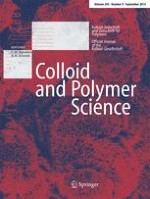 Distinguishable effects of varied micelles on the hydrolysis of PNPP by dinuclear copper(II) complexes containing oxo-bridged unit
Zeitschrift:
Autoren:

Weidong Jiang, Bin Xu, Fuan Liu, Zhen Xiang
Abstract
Two alkoxo/hydroxide-bridged dinuclear copper(II) complexes (Cu
2
L1 and Cu
2
L2) were prepared for evaluating their activity towards the hydrolysis of
p
-nitrophenyl picolinate (PNPP). Importantly, this work investigated the effects of varied micelles of four surfactants, e.g., cationic gemini 16-2-16 and 16-6-16, single-chain CTAB (hexadecyltrimethylammonium bromide), and LSS (
n
-lauroylsarcosine sodium), on the PNPP hydrolysis by the as-prepared copper(II) complexes. The experimental results indicate that at neutral pH both of complexes exhibited much better activity by excess four-order of magnitude rate enhancement. For instant, rate constants of PNPP hydrolysis by Cu
2
L1 and bromo-containing Cu
2
L2 are approximate 49,569.6- and 31,123.5-fold than that of PNPP spontaneous hydrolysis. In addition, the hydrolytic reactivity of the bromo-containing Cu
2
L2 is subordinate to that one without bromine, Cu
2
L1. Moreover, it is found that the micellar solution of gemini 16-6-16 is proved to be the best medium, and whereas LSS micellar solution is the worst one. Particularly, the p
K
a
values of the Cu(II)-bound H
2
O are determined by a new methodology which is correlative to second derivatives.