03.10.2017 | Technical Paper | Ausgabe 3/2018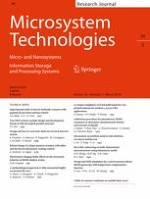 Distributed parameter modeling for autonomous charge extraction of various multilevel segmented piezoelectric energy harvesters
Zeitschrift:
Autoren:

M. Krishnasamy, T. R. Lenka
Abstract
Efficiency of cantilever based continuous piezoelectric energy harvester is reduced by charge cancellation due to changes of mechanical strain in higher vibration modes. Therefore, in order to prevent the charge cancellation, various segmentation techniques are adopted at respective strain nodes of higher modes. In this paper, two distributed parameter models are developed for the traditional segment techniques of the cantilever with tip mass configuration in '
n
' number of strain nodes. The electrodes of piezoelectric layer are segmented in 1st model whereas piezoelectric layer along with electrodes are segmented in 2nd model. In both the models, the bimorph segmented electrodes are connected parallel with external resistive loads. The analytical solutions of electrical frequency response under harmonic base excitations are obtained through Euler–Bernoulli beam theory for 1st model and extended Hamilton beam assumptions for 2nd model. The developed analytical models are validated using numerical models established by COMSOL. The results demonstrate that the performance of proposed segmented piezoelectric layer model outperforms than traditional model of segmented electrode piezoelectric energy harvester.