2019 | OriginalPaper | Buchkapitel
Distributed Quality of Information-Aware Decision-Making in Vehicular Networks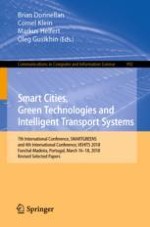 Erstes Kapitel lesen
Autoren: Tobias Meuser, Martin Wende, Patrick Lieser, Björn Richerzhagen, Ralf Steinmetz
Abstract
Advanced Driver Assistance Systems require huge amounts of sensor information to increase driver comfort and safety. As the range of on-board sensors is limited, vehicles exchange information to enhance their view on the environment. However, the exchanged measurements may be outdated or based on inaccurate sensor data, requiring additional processing and reasoning. Thus, the received measurements need to be evaluated to determine the correct value. State-of-the-art decision-making approaches focus on static information and ignore the temporal dynamics of the environment, which is characterized by high change rates in the vehicular scenario. Hence, they lack an optimal balance between adaptability to new information and robustness to false information.
We use a quality of information based weight to rate measurements according to their validity. This aggregation, however, works best if the amount of measurements is high. On barely trafficked roads, in-network caches are volatile. Thus, we utilize server-side cache to increase the performance for those roads. Thus, we combine the advantages of server-side and vehicle-side caches to achieve close-to-optimal results, while keeping hardware requirements of the server low.
In our evaluation, we used a simulation model of the city of Cologne to show the adaptability of our approach to different traffic situations. We show, that our approach increases the quality of other caching and decision-making approaches by up to
\(13\%\)
, while simultaneously decreasing the network load by up to
\(93\%\)
.