01.01.2015 | Ausgabe 1/2015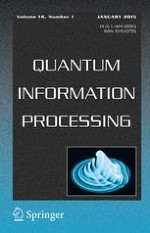 Distributing a multi-photon polarization-entangled state with unitary fidelity via arbitrary collective noise channels
Zeitschrift:
Autoren:

Xiao-Ming Xiu, Qing-Yang Li, Li Dong, Hong-Zhi Shen, Dan Li, Ya-Jun Gao, X. X. Yi
Abstract
Taking collective noise into account, a feasible protocol for distributing a multi-photon polarization-entangled state is presented assisted with spatial degree of freedom. The compositions of polarization beam splitters and half-wave plates with tilted
\(\pi /4\)
functioning as NOT gates convert the entanglement modes between the polarization and spatial degree of freedom. The appropriate and available optical elements are applied, by which the protocol can be feasibly implemented without the influence resulting from arbitrary collective noise. Furthermore, the successful probability of the entangled state distribution equals to unity for unitary collective noise model.