11.12.2017 | Electronic materials | Ausgabe 6/2018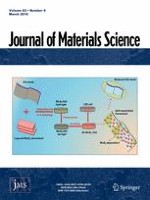 Distribution of microscopic defects in Al-doped CdZnTe crystal
Zeitschrift:
Autoren:

Ruihua Nan, Tao Li, Gang Xu, Zengyun Jian, Xiaojuan Li
Abstract
We investigated the distribution of microscopic defects in an Al-doped CdZnTe crystal (CdZnTe:Al), grown under Cd-rich condition by the modified vertical Bridgman method, and their influence on the electrical transport behaviors. These microscopic defects were characterized by photoluminescence (PL), thermally stimulated current spectroscopy and thermoelectric effect spectroscopy. The results show that a low intensity and wide FWHM of (D
0
, X) peak observed in the low-temperature PL spectrum of CdZnTe:Al sample implies the non-ideal high crystal quality, which is in good agreement with its results of electrical transport properties. The bulk resistivity of CdZnTe:Al sample was evaluated to be in the magnitude of 10
8
Ω cm with I–V and Hall measurements. Simultaneously, high leakage currents were observed to produce the high noise, which deteriorated the detection performance. Besides, the shallow donor Al
Cd
+
with the activation energy of 13 meV and the relatively shallow acceptor A-center complex (V
Cd
–Al
Cd
) of 112 meV were identified to dominate the low- and high-temperature quenching processes in the temperature-dependent PL spectra, respectively. These microscopic defects as trapping or recombination centers for the charge carriers in CdZnTe:Al detector are responsible for its electrical transport properties, leading to the incomplete charge collection. A further comprehensive investigation on the distribution of microscopic defects was proved to achieve the balance between acceptors and donors in the defects compensation process of CdZnTe:Al sample. In particular, the
E
DD
level at
E
c
− 0.554 eV was attributed to the doubly ionized Cd interstitial (Cd
i
2+
), which pinned the
E
F
level near the mid-gap to achieve the high resistivity performance.