01.02.2013 | Original Paper | Ausgabe 2/2013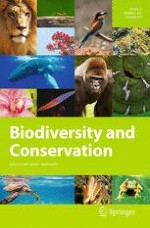 Distribution patterns of macrobenthic biodiversity in the intertidal seagrass beds of an estuarine system, and their conservation significance
Zeitschrift:
Autor:

R. S. K. Barnes
Abstract
Intertidal stands of seagrass are important elements in the ecology of many estuaries yet the manner in which their associated macrobenthic biodiversity is distributed throughout any single estuary has never been determined. This has now been attempted for the Knysna estuarine bay in the Garden Route National Park, South Africa, an important site for one vulnerable and declining seagrass, Cape dwarf-eelgrass (
Nanozostera capensis
), and for several associated animals. Although spanning a salinity range of <5–35, the seagrass beds of this estuary contained a unitary fauna with local variation in frequency and abundance of the various species. Faunal biodiversity was highest along the main estuarine channel in the marine-influenced region and declined both upstream and into the sheltered peripheral zones, overall faunal abundance being inversely correlated with species diversity (though not with species richness). This pattern results in the beds around the 4 km shoreline of a single island near the mouth supporting 91 % of the total macrobenthic invertebrate species present in the system. This situation is discussed in relation to such data as are available from other comparable systems and to the conservation of estuarine seagrass faunal biodiversity. It is concluded that in general and with caveats for some individual species of concern where conservation resources are limited attention would most profitably be focused on the seagrass meadows of downstream estuarine areas.