01.02.2011 | Original Paper | Ausgabe 2/2011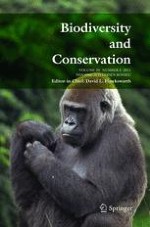 DNA barcoding: a tool for improved taxon identification and detection of species diversity
Zeitschrift:
Autoren:

Maria von Cräutlein, Helena Korpelainen, Maria Pietiläinen, Jouko Rikkinen
Abstract
Recently it was decided that portions of
rbcL
and
matK
gene regions are approved and required standard barcode regions for land plants. Ideally, DNA barcoding can provide a fast and reliable way to identify species. Compiling a library of barcodes can be enhanced by the numerous specimens available in botanic gardens, museums and herbaria and in other ex situ conservation collections. Barcoding can strengthen ongoing efforts of botanic gardens and ex situ conservation collections to preserve Earth's biodiversity. Our study aimed to detect the usability of the universal primers of the standard DNA barcode, to produce standard barcodes for species identification and to detect the discriminatory power of the standard barcode in a set of different groups of plant and fungal taxa. We studied
Betula
species originating from different parts of the world, and
Salix
taxa, bryophytes and edible and poisonous fungal species originating from Finland. In
Betula
and
Salix
, the standard DNA barcode regions, portions of
matK
and
rbcL,
were able to identify species to genus level, but did not show adequate resolution for species discrimination. Thus, supplementary barcode regions are needed for species identification. In
Salix
, the
trnH
-
psbA
spacer was also used, and it proved to have more resolution but, yet, not adequate levels of interspecific divergence for all studied taxa. In a set of bryophyte species, the
rbcL
gene region was found to possess adequate resolution for species discrimination for most genera studied. In bryophytes,
matK
failed to amplify properly. In fungi, the combination of
ITS1
and
ITS2
proved to be effective for species discrimination, although alignment difficulties were encountered. In general, closely related or recently diverged species are the greatest challenge, and the problem is most difficult in plants, both in terms of a suitable combination of barcoding regions and the universality of used primers.