2018 | OriginalPaper | Buchkapitel
DNS-DNS: DNS-Based De-NAT Scheme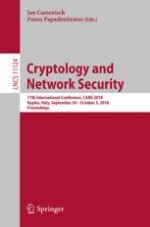 Erstes Kapitel lesen
Autoren: Liran Orevi, Amir Herzberg, Haim Zlatokrilov
Abstract
Network Address Translation (NAT) routers aggregate the flows of multiple devices behind a single IP address. By doing so, NAT routers masquerade the original IP address, which is often viewed as a privacy feature, making it harder to identify the communication of individuals devices behind the NAT.
De-NAT
is the reverse process: re-identifying communication flowing into and out of the NAT. De-NAT can be used for traffic management, security, and lawful surveillance.
We show how DNS requests provide an effective De-NAT mechanism by observing queries to open resolver, in addition to 'classical' provider-based De-NAT. This new method allows de-NATing in cases where known schemes fail, e.g., in Windows 8 and 10, and by remote DNS resolvers. We analyze use cases where the suggested DNS based De-NAT is effective, suggest a De-NAT algorithm and evaluate its performance on real (anonymized) traffic. Another contribution is identifying the phenomena of
drum beats
, which are periodic DNS requests by popular applications and processes; these can allow long-term de-NATing, and also provide fingerprinting identifying specific devices and users. We conclude with recommendations for mitigating de-NATing.