01.06.2015 | Original Paper | Ausgabe 2/2015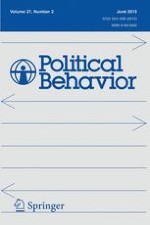 Do Ballot Initiatives Increase General Political Knowledge?
Zeitschrift:
Autoren:

Nicholas R. Seabrook, Joshua J. Dyck, Edward L. Lascher Jr.
Abstract
Current literature often suggests that more information and choices will enhance citizens' general political knowledge. Notably, some studies indicate that a greater number of state ballot initiatives raise Americans' knowledge through increases in motivation and supply of political information. By contrast, we contend that political psychology theory and findings indicate that, at best, more ballot measures will have no effect on knowledge. At worst greater use of direct democracy should make it more costly to learn about institutions of representative government and lessen motivation by overwhelming voters with choices. To test this proposition, we develop a new research design and draw upon data more appropriate to assessing the question at hand. We also make use of a propensity score matching algorithm to assess the balance in the data between initiative state and non-initiative state voters. Controlling for a wide variety of variables, we find that there is no empirical relationship between ballot initiatives and political knowledge. These results add to a growing list of findings which cast serious doubt on the educative potential of direct democracy.