2017 | OriginalPaper | Buchkapitel
21. Do Economic Growth Regimes Impact the Pass-Through of Exchange Rate Shocks to Inflation?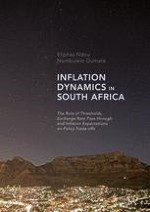 Erstes Kapitel lesen
Autoren: Eliphas Ndou, Nombulelo Gumata
Abstract
This chapter investigates the role of GDP regimes in the exchange rate pass-through (ERPT) to inflation. Evidence shows that GDP growth regimes introduce non-linearity in the response of inflation to rand depreciation. Furthermore, large rand depreciation shocks lead to higher inflation responses than small depreciation magnitudes. Monetary policy reacts to such depreciation shocks but the tightening is influenced by the magnitudes of the pass-through of the rand depreciation shocks to inflation. Large magnitudes of the exchange rate depreciation are accompanied by large inflation rate responses and aggressive monetary policy.
The policy implications of the evidence are that the pass-through of large exchange rate depreciations to inflation is neutralised to some degree by the low GDP growth regime. In addition the low exchange pass-through to inflation in the low GDP growth regime is consistent with the menu cost theory of price changes, which suggests that producers subjected to low demand often hesitate to change prices frequently and may absorb a significant portion of cost increases.