01.06.2015 | Ausgabe 2/2015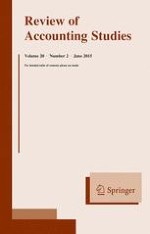 Do sophisticated investors use the information provided by the fair value of cash flow hedges?
Zeitschrift:
Autoren:

John L. Campbell, Jimmy F. Downes, William C. Schwartz Jr.
Wichtige Hinweise
We appreciate helpful comments and suggestions from an anonymous reviewer, Ben Ayers, Linda Bamber, Andy Call, Patricia Dechow, Dan Dhaliwal, Jere Francis, Lisa Hinson, Kelly Huang, Tony Kang, Lian Fen Lee, Sandeep Nabar, Santhosh Ramalingegowda, Bob Resutek, Ben Whipple, and workshop participants at Oklahoma State University and the 2012 American Accounting Association (AAA) Annual Meeting.
Abstract
An unrealized gain on a cash flow hedge implies that the price of the underlying hedged item (i.e., commodity price, foreign currency exchange rate, or interest rate) moved in a direction that will negatively affect the firm's profits after the hedge expires. Prior research shows that unrealized gains/losses on cash flow hedges are negatively associated with future earnings and that investors' expectations, as reflected in stock prices, do not appear to anticipate this association. We provide further evidence on this mispricing by examining whether financial analysts understand the future earnings effects of cash flow hedges. We find three main results: (1) analysts do not correctly incorporate unrealized cash flow hedging gains and losses into their 2- and 3-year-ahead earnings forecasts, (2) analysts correct their errors after the hedges have largely expired and investors correct their mispricing at this time, and (3) analysts and investors can better process cash-flow-hedge information when managers provide forecasts.