2015 | OriginalPaper | Buchkapitel
Do Technology-Related Stimuli Affect Age Estimation?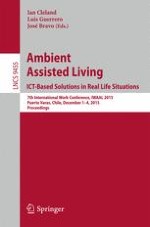 Erstes Kapitel lesen
Autoren: M. A. Rodrigo Juarez, Jesús Favela, Víctor M. González
Abstract
The potential for ubiquitous ambient technology to assist older adults to sustain an active life, raises questions about whether this can bring transformational effects for users including those related to modifying ageing perception. We aim to investigate the effects that technology related priming has in the perception of ageing via age estimation. Sixty participants, exposed to technology, ageing and neutral related stimuli, were asked to perform a priming activity and to estimate the age of a set of persons depicted in different photographs. We found that neither the estimation of the participants from 'Technology' nor 'Ageing' group differ from the estimation of participants from the 'Neutral' group. Evidence suggests that exposing participants to technology concepts by itself does not alter age perception. However, previous works show that the usage of technology can modify ageing perception. Therefore, we define a longitudinal second experiment in which we will provide different devices to older adults for them to use and through qualitative methods study this phenomenon.