2015 | OriginalPaper | Buchkapitel
Do We Exactly Know What Is Actually Published? A Positioning Analysis Of Four Major Marketing Journals (Jams, Jm, Jmr, Jcr) For The Period 1996–2001.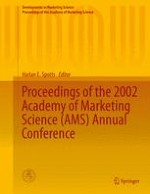 Erstes Kapitel lesen
Autor: Jean Boisvert
This paper presents the results of a quantitative analysis uncovering similar groups of articles and establishing the positioning of four major marketing journals (JAMS, JM, JMR and JCR) in terms of what was actually published between 1996 and 2001. A census of the 694 articles published in JAMS, JM, JMR and JCR between 1996 and 2001 was conducted followed by a factorial, hierarchical cluster and correspondence analyses. The results reveals that each periodical has its own distinct personality except for the Journal of the Academy of Marketing Science that carries a dual positioning. First, JAMS appears to have established itself in terms of conceptual articles and literature reviews. Furthermore, JAMS competes head to head by sharing JM's positioning in terms of publications regarding organizational/distribution channels dynamics intimately related to the structural equation modeling of theoretical constructs underlying manager's decision making processes. This may constitutes a surprise for many academicians in addition to the large proportion of those studies SEM and managers (178 out of all 233 articles appear in JM/JAMS). The analysis also identified a trend exclusively related to the Journal of Consumer Research; indeed the number of studies required nowadays before being published must now reach close to three by article on average (excluding regular pretests).