2019 | OriginalPaper | Buchkapitel
Do We Need (Digital) Archeology Literacy?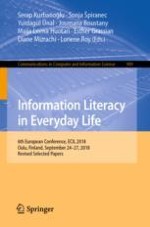 Erstes Kapitel lesen
Autoren: Mihaela Banek Zorica, Rajna Sosic Klindzic
Abstract
The field of archeology with its traditional and digital environment presents a complex field that is not only influenced by the advancement of technology but also dependent on the cultural context. Although technology made a huge difference with the time needed for excavations and data gathering it has created a whole array of the new challenges. As new challenges are created, new solutions required. The question of digital archeology literacy has emerged as one of the solutions. This pilot study was conducted with field archeologists in order to identify their positions in digital archeology. The results show that there were no digital archeologists in Croatia. The majority of archaeologist were still in the digitization period, juggling between traditional and digital archeology. They are still struggling with the digital technology and the abundance of data created with it. The lack of data literacy and information management as well as the emergence of digital autodidactics show that there was a lack of structural integration of information literacy in the education of digital archeologists.