30.12.2017 | Ausgabe 1/2019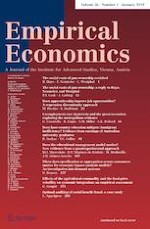 Does apprenticeship improve job opportunities? A regression discontinuity approach
Zeitschrift:
Autoren:

Matteo Picchio, Stefano Staffolani
Wichtige Hinweise
The Compulsory Communication Data are used with the permission of the Ministry of Labour and Social Policies thanks to the agreement between the Department of Economics and Social Sciences of Marche Polytechnic University and the General Department for the Innovation Technology of the Ministry of Labour and Social Policies. We wish to thank Massimiliano Bratti, Bart Cockx, and the participants to the AIEL Conference in Rome (09/2013), to the Labor-Health seminar at Tilburg University (12/2013), to the GioveDISES seminar at Marche Polytechnic University (02/2014), and to the seminar of the Department of Economics of Ghent University (10/2014) for their comments and suggestions. Any remaining errors are our own.
Abstract
In Italy the main difference between apprentices and other types of temporary workers is that apprentices must receive firm-provided training. The firm incentive in hiring apprentices consists in paying lower wages and labour taxes. Using an Italian administrative dataset containing information on the jobs started between January 2009 and June 2012, we estimate the effect of apprenticeship on the hazard function to a permanent job. Identification is based on a regression discontinuity design. We find that, for 29-year-old workers, apprenticeships are "long entrance halls" towards permanent contracts, especially within the firm where the apprenticeship is performed.