2013 | OriginalPaper | Buchkapitel
31. Does Biofuel Production Threaten Food Security?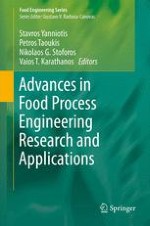 Erstes Kapitel lesen
Autor: Walter E. L. Spiess
Verlag: Springer US
Abstract
The world's population is growing despite the spread of hunger and diseases around the globe. It is anticipated that in 2050 more than nine billion people will have to share the limited resources that are necessary to meet all the needs of humanity. According to many forecasts, it will be especially difficult to provide sufficient food, water and energy for a sustainable livelihood. To provide sufficient food to nine billion people, food production will have to rise by 50 % over present levels, according to Food and Agriculture Organization of the United Nations data. Increased food production and energy provision should rely to a great extent on environmentally friendly, sustainable resources that also help to mitigate climate change. These two requirements are very often considered as competing with each other because a major share of sustainable energy should be based on biofuels, i.e. on substances originating largely from agricultural resources, resources that must also be available to secure food supplies for the world's huge population. The problem becomes especially evident when one considers that at present first-generation biofuels are produced from soy, palm, and rapeseed oils or starch and sugar crops like maize, wheat or sugar cane, which are all valuable food resources.
Growing food crops and, to some extent where feasible, fuel crops (both as cash crops) could create highly desirable cash-flow especially for developing country farmers, which would help to intensify crop production, provide affordable energy sources for mechanizing agricultural production and ultimately improve resource efficiency.
Crops that are especially suitable as fuel crops are drought-resistant crops and crops that might also have the potential to improve the properties of soil on degraded land.
Projections of the growth of the global human population demonstrate that it will be extremely difficult to comply with environmental goals and to feed the world's growing population. Those objectives will be achievable only if dramatic changes are made in present time patterns for generating and using energy and agricultural produce.